Banners

A big area calls for a big statement. And that's exactly what we deliver with every banner we print.




Brochures

With professional design and printing, our brochures are sure to sell. From the big idea to the small details, our team has years of experience to get the job done.




Business Packages

Shouldn't your stationery be as unique as your business? Give your company an engaging brand identity through professionally designed letterhead, envelopes and business cards.




Design

Your business is too important to rely on beginner design. Let our pros handle the concept, design and layout of your piece, and give every design the credibility it deserves.
Is your project ready for production? Are you still kicking a few ideas around? Do you need to budget for your next project?

Whether it's an existing order or new, we can make the process simple and easy.

Our online file transfer system allows you to easily send us a file.
Full Service Digital & Offset Printing in Rochester
Welcome to Ultraprint Corporation!
Rochester's full-service printing company.
At Ultraprint, we provide printing the way you want it, when you want it. With a combination of state-of-the-art, high quality digital printing equipment and our own proprietary expertise we are able deliver custom branded company internal printing collateral and marketing material that convert shoppers into paying customers. We work with nearly 400 companies who require the quality that we provide, the confidence that things will done right and the peace of mind it will be ready on-time - plus we have the ability to offer a wider range of quantity options - without sacrificing quality or value.
With over 45 years of experience, we can handle any job—business and promotional printing, stationary and letterheads, posters and signs, color copies, photo prints and much more.
Take a look at all of our printing services or contact us to work out the details of your project.
---
Marketing 101: Effective Landing Pages
Posted on 02/05/2018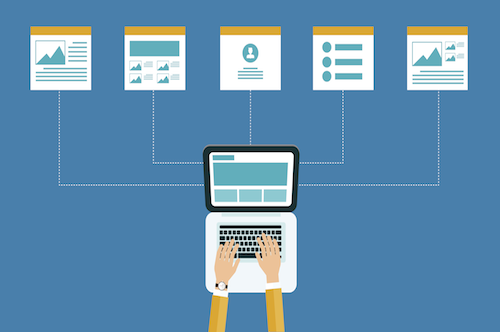 For small businesses, large companies and professional individuals, staying ahead on marketing tactics is an important component in growing an organization. One such marketing tactic is the popular use of landing pages. When visitors go to a website, they can oftentimes feel overwhelmed and lost with all of the different options; however, with the use of a landing page, website visitors come through a variety of different sources for one specific reason.
Unlike a typical homepage, landing pages are a separate component of a website, and prompt visitors to take a specific action, such as trying out a new service or signing up for an email list. Therefore, landing pages are a critical part of a marketing strategy because of their targeting and lead generation capabilities. When it comes to building strong landing pages, there are vital components. In today's lesson of Marketing 101, learn how you can create effective landing pages.
Clean Design
With web content in general, a clean design tends to be the best design. However, with landing pages in particular, a clean design is most often preferred. When visitors come to landing pages, they expect to be guided from Point A to Point B quickly and efficiently, without feeling overwhelmed by too many colors or information. Your goal with a landing page is to create the easiest experience possible for your visitor. Making sure to keep the design crisp and neat will help drive visitors through the landing page and help improve lead conversion rates.
Consistent Messaging
Messaging is a vital part of your landing page; after all, your goal is to get visitors to act, right? Therefore, consistent messaging matters. From the advertisement, to the headline, all the way through the copywriting, consistent messaging is vital. For example, if your advertisement says, "Stay up to date with our latest news!", that same information should be included in the headline of the landing page, then throughout. Using the same language throughout a landing page creates a predictable and relevant user-experience, helping visitors stay on track easily.
Emotional Content
As most marketers could probably tell you, human beings tend to be driven more by emotion than logic. We tend to do what feels like the right decision, not necessarily what is the right decision. Keep this in mind when drafting up the content for your landing page. Spewing facts and information can definitely be helpful for visitors, but oftentimes it won't compel them into taking that final leap of faith. Speak directly to clients' emotions through engaging vocabulary.
Visual Appeal
A landing page full of single-space, black and white font definitely doesn't seem like something interesting to read. Instead, be aware of the content you utilize in your landing page, and how visually appealing it is to visitors. Eye-catching images and impactful videos can say a lot more than full paragraphs worth of text. Pair these with some colors that pop or interesting fonts, and you can take your landing page to the next level—while still maintaining a clean design.
Call to Action
Finally and most importantly, you want landing pages visitors to do something when they visit. This is where the call to action comes in. Your call to action should be big, bold and clear. Create a prominent button that users can easily see and click, with messaging that feels inviting. Think of your CTA button as an "I want to…" button. For example, no one wants to "Submit." But, people might want to "Join our team!" Strong, clear and fun CTAs can be the ultimate difference between a bounce and a lead-conversion for your landing page.
Marketing strategies matter for businesses, and landing pages are no exception. With their targeted approach and calls to action, landing pages help drive greater lead conversions for new and prospective clients. Next time you draft up a landing page, use some of these tips to help get the best results and grow your business.